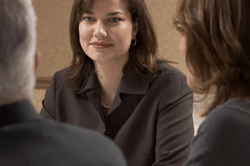 The IRS has you in their sights!
They know where you live, where you bank, AND where you work.
You can't ignore them, and they won't ignore you. You have to deal with them -- SOON! Usually, they wait no more than 30 days before they strike again.
The next thing they will probably do if you ignore them is a LEVY of your wages, or your bank, or the people you do business with! That is where they leave you with as little as $179.00 per week take home pay, bounce all your checks, stop your businesses from operation, or contact all your clients. Their computers usually do this automatically.
How do you STOP all this? By hiring a seasoned tax professional like us to step in between you and them. They will then call or contact us, not you! Someone who knows what to do! Someone who has done it time and time again. That's us. We are a firm of Certified Public Accountants and Enrolled Agents licensed to practice before the Internal Revenue Service. We always do what we say we will do for you, and you can afford us.
You do not want to hire one of those TV "Experts." They, for the most part, take your money and do nothing. Many of them have been sued and severely fined. Do your research. Hire a local professional.
IRS Tax Problems?
Because you have a lien, and it's a public record, you will be getting dozens of letters and phone calls from firms offering to "solve you problems" or "get the IRS to make a deal."
Don't Fall for It!
There are no "magic" answers. The IRS is NOT OFFERING SPECIAL "DEALS." But they will listen to somebody representing you that knows what they are doing. Somebody who knows THEIR LAWS & RULES! Somebody who is trustworthy and competent with a proven record working with them.
Solutions to Your IRS Tax Problems
Welcome to Cain, Bourret, Jarry & Cressman LLC where finding solutions to your IRS tax problems is our business. We represent clients from all states, and we're always willing to accept new clients.
We offer:
Installment Agreements
Audit Representation
Currently not Collectible Status
Subordination Agreements
Representation of your problems with the IRS and All States
IRS Notice Analysis by fax, mail or e-mail (FREE)
Trust Fund Penalty Representation
Innocent Spouse Wage Garnishments
Back Taxes
And MORE!
Our firm offers full representation and will negotiate with the IRS on your behalf. Our clients do not meet or speak to the IRS directly. If you qualify for an Offer in Compromise, we will use our years of experience and expertise to get the lowest possible settlement. We have the knowledge, experience and expertise to negotiate for you throughout the IRS process so you do not have to.
Hiring a professional will save you TIME, MONEY AND FRUSTRATION.
You CAN afford to hire us. We will make reasonable payment arrangements with you. We take all major credit cards. You talk directly with a Certified Public Accountant or an Enrolled Agent at all times. No Salesmen.