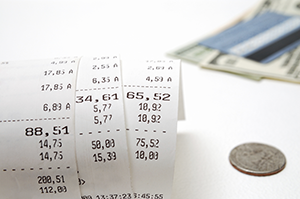 Payroll
Managing payroll can be time-consuming, especially if something goes wrong! Correcting issues requires a thorough knowledge of tax laws and deposit rules. As a small business, it can be challenging to keep up with all of these tasks.
Cain, Bouret, Jarry & Cressman LLC's payroll services are designed to provide you with a comprehensive solution for managing your payroll duties. With our services, all you need to provide is your employee data. Initially, the data includes employee names, addresses and social security numbers. Then, you simply call in your employee hours every payroll period. Once we receive the data, we handle the rest!
In addition to paychecks; a payroll service can help generate the payroll forms that you require, file your payroll tax returns, and more to keep your business running smoothly.
Here are the Payroll Services we offer:
Checks or Direct Deposit for Your Employees
Federal Tax Liabilities (940 and 941 Payroll Taxes)
State & Local Tax Liabilities
Quarterly Tax Forms
Year-End Tax Forms
Customized Payroll Reports
Tax Deposit Services
W-2s, W-3s and 1099s
State Unemployment Returns
Federal Unemployment Returns
Take the headaches out of payroll! Use the Cain, Bourret, Jarry & Cressman LLC payroll services! We monitor all applicable federal, state and local laws that may affect your tax filings. We will stay on top of these updates so you will never have to worry about being late or behind. Let us take care of your payroll needs so you can focus on what you do best.
Security and Compliance
Cain, Bourret, Jarry & Cressman LLC complies with federal data security regulations, so you know that your data is secure. Federal regulations ensure that your data is maintained and transmitted securely.
Bookkeeping
We provide bookkeeping services for far less than the cost of an in-house bookkeeper. And, we will do the bookkeeping in our office, or yours! In addition, we can recommend accounting software and help with installation and training.
We will guide you through the following:
What is the best accounting method for your business? Accrual or Cash?
What is the best accounting software for your business?
What is your financial position?
What are your key performance indicators?
How can you save the most money?
Furthermore, our CPAs and EAs can prepare, review and file your tax returns to keep you in compliance.